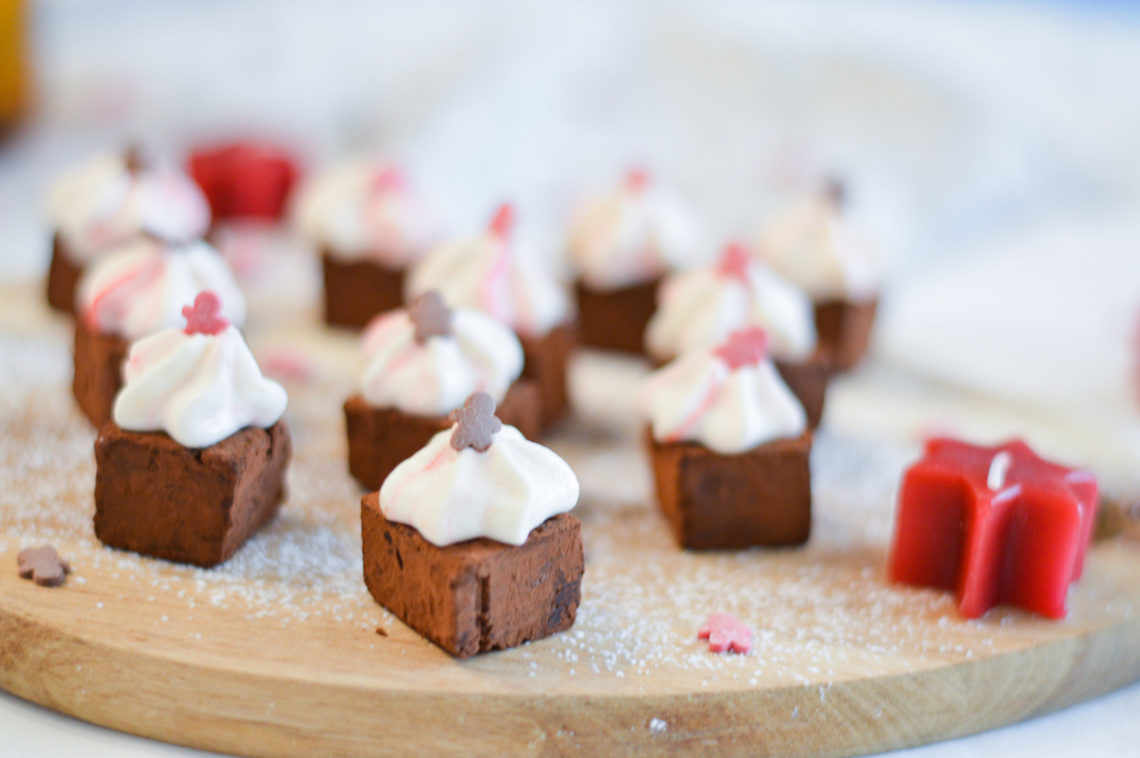 Truffes chocolat – Inspiration yuzu pour les fêtes
Je ne suis pas forcément très chocolats au lait rocher, et autres chocolats très prisés dans le commerce car je préfère le chocolat noir, un peu corsé. Depuis toute petite, l'un des incontournables de Noël est la truffe. Nous sommes 5 et nous avons chacun notre recette préférée, noir au rhum pour mon Papa, au lait et à la passion pour ma Maman, à la pistache pour mon mini frère et au praliné pour mon mini-frère. Ma préférée à moi c'est celle au chocolat noir, couverte d'une fine couche de chocolat en poudre épicé ou à la cannelle. Je vous propose cependant une version qui contente tout le monde : chocolat noir – agrumes.
Pour cette association, j'ai choisi le chocolate Caraïbe Valrhona 66% surmonté d'une ganache montée au chocolat Inspiration Yuzu, création de Valrhona. Vous pourrez facilement jouer avec cette recette en variant les chocolats -voir les notes- alors n'attendez plus, habillez vos truffes au chocolat pour le réveillon, elles aussi veulent faire la fête !
Attention: préparez les ganaches la veille !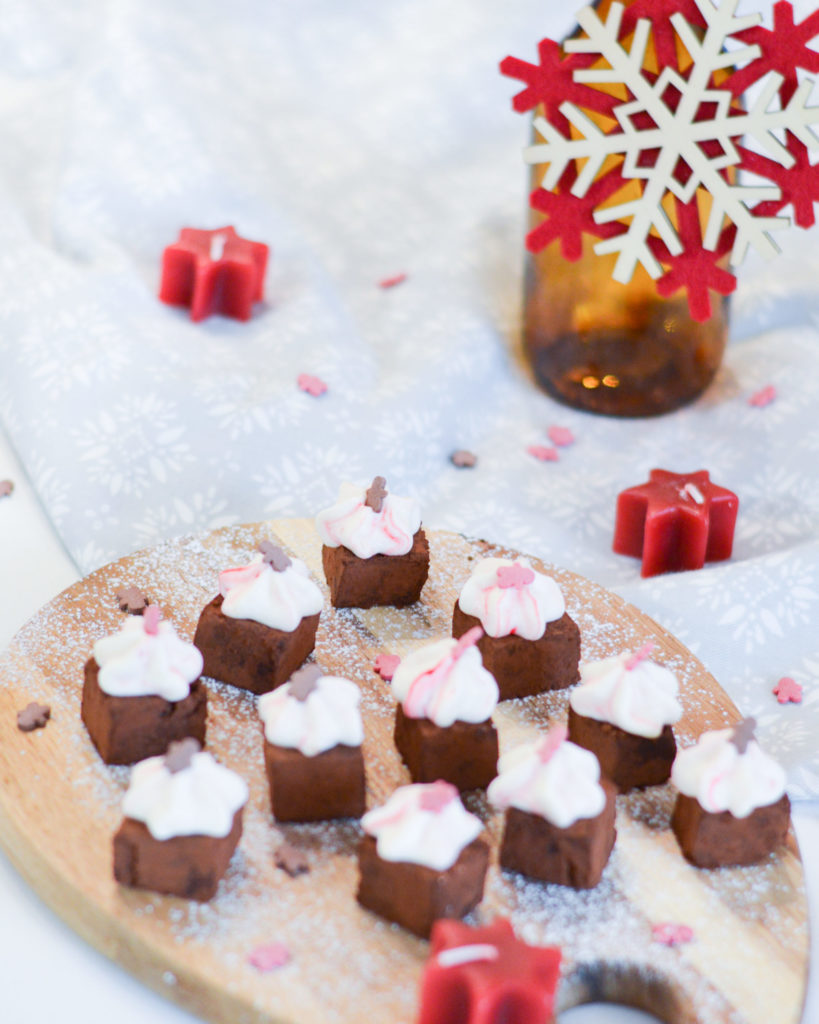 Temps de Préparation

1.5

heures
Temps de Préparation

1.5

heures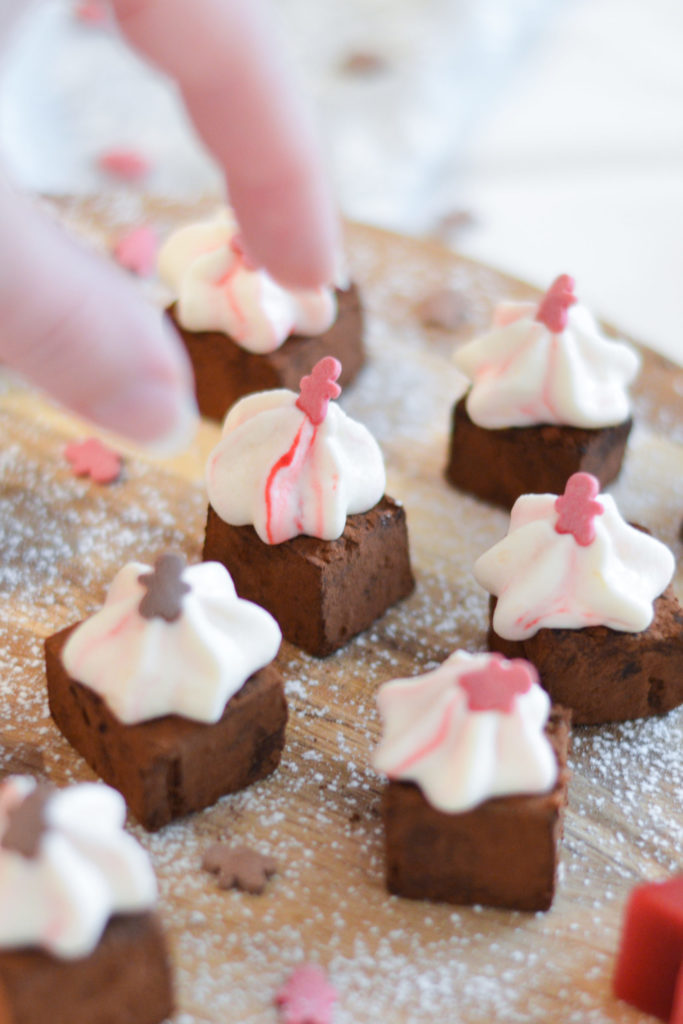 I'm not really into praline chocolate or any other sweet milk chocolate you can easily find in the shops, I'm definitely into chocolate which are a bit stronger, and every year we make truffles. We are 5 at home and we each have our favorite recipe of truffle, Dad's is rhum-dark chocolate, Mum's milk with passion fruit, mini-little bro' is with pistachio and my little brother is more into hazelnuts. My favorite is with dark chocolate, coated into spicy chocolate or cinnamon sugar. Today's version actually pleased everyone: dark chocolate and citrus, or should I say, Yuzu.
For this association, I've chosen the Caraïbean Valrhona chocolate at 66% and topped it with the Yuzu inspiration chocolate, created by Valrhona. You can easily twist this recipe by variating the chocolates – see notes so just dress up and make truffle to celebrate!!
Attention: make the day before to be ready on time!
Temps de Préparation

1.5

hour
Whipped ganache with Yuzu Inspiration
Temps de Préparation

1.5

hour

Whipped ganache with Yuzu Inspiration
Heat cream, without bringing it to a boil,

Pour over chocolate to melt it,

Incorporate butter and combine well,

Line a rectangular tray with plastic wrap, 

Transfer the chocolate mix to the tray, even the surface as much as possible,

Cover and set aside in your fridge to set, at least 2 hours - ideally overnight,

Using a knife, cut 1-in. cube,

Prep a plate or bowl with cocoa powder and lightly toss each truffle cube in the cocoa powder, 

Set aside in the fridge until ready for next step.
Whipped ganache with Yuzu Inspiration
In a saucepan, bring a third (50 g) of the cream to simmer, 

Pour the simmering cream over the Yuzu Inspiration chocolate in several goes and combine well till you get a nice and silky texture, 

Add in honey and remaining heavy cream, 

Set aside in the fridge to cool completely - ideally overnight,

Before serving, whip the ganache, gradually increasing the speed of your whisk,

Prep a pastry bag with a ribbed tip - my favorite is Wilton's M1,

Using a tooth pick, draw afew lines of red food coloring into the pastry bag,

Transfer the whipped ganache to the pastry bag,

Set aside in the fridge until you are ready to dress.
Once all elements are ready, make one push of the whipped ganache over each truffle,

Finish by topping the bites with decorative sugar or sprinkles,

You're done, time to try it!
If you are a bit worried about the Yuzu - Carribean dark chocolate combination, try out something softer like Jivara milk chocolate and Passion fruit or Raspberry Inspiration.